Muse Live – The Ne Plus Ultra?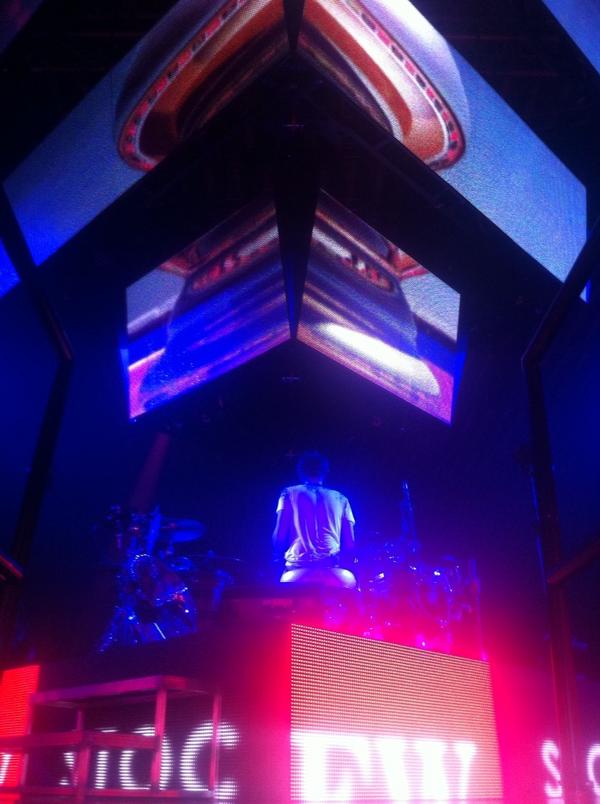 Last week I went outside to see my first ever Muse gig. And I have to say, the outcome is satisfying.
As the english three-piece started their set with dubstep-influenced "Unsustainable", I spent my time on the toilet, and as I rushed into the hall, I was a bit surprised how small this venue was, just around 7000 or 8000 people were pushing themselves around.
Whatsoever, Muse proceeded their gig and dashed down the bombastic "Supremacy", although the bombast wasn't that overwhelming. It took about five or six songs until the mixing-desk-guys had everything under rudimental control, but it was indoor anyway.
Despite the sound problems, it was one huge technique show. Beginning with this enormous moving screen-pyramid which was centred above Dom Howard's drums. Then they had some glasses which Matt Bellamy wore through "Madness" and on which the lyrics were flashed up.
And for sure, they used the good old laser as if they never could use him again. A lot of laser.
On stage Muse played most of the songs from their new album "The 2nd Law" which was acceptable, but it took its time until the audience awake properly. After playing "Time Is Running Out", "Plug-In Baby" and "Uprising", the crowd got insane, it was fun to watch these people, especially during "Animals". Imagine an ordinary crowd which should move to a song written in 5/4 time signature, they hade no chance.
Unfortunately there have been many people without any knowledge in music or art. As the pyramid swallowed the band, and they left the stage to prepare for the first encore, "Isolated System" has been played, backed with an amazing film shown on the pyramid screens. And I like this song, I think it's really beautiful. But all these people though eventually that they have to clap their hands. Why? They didn't even clap in strict time! I couldn't believe such ignorance.
Although Muse didn't play "Hysteria" nor "New Born", two of my absolute favourites, the concert was a proper incident. Speaking of "New Born", it was fancy how they pretended to decide between "New Born" and "Stockholm syndrome", via the "roulette wheel of rock". The pyramid was the middle of the wheel and the screens on the floor imitated the wheel, black for "Stockholm syndrome" and red for "New Born". Apparently the pellet attended black.
Finally the lads began to rock and I expired the best thing I have ever seen live on a stage until now. Chris Wolstenholme, normally the bassist, began to play "Man With A Harmonica", that meant it was time for "Knights Of Cydonia". Being part of this unlimited space-cowboy anthem made me nearly cry. No, really, it was huge. Almost as huge as the closing track "Survival". Accompanied by all this special effects the end was the bombastic pudding on top of this bombastic show.
To sum up, I'd like to say that this Muse gig wasn't this years best concert but it was the most pompous show I've ever seen and I can't wait to see the same band next year in a stadium.
At the bottom of this page I added a small sample of how Muse is live.
Muse played:
The 2nd Law: Unsustainable
Supremacy
 Map Of The Problematique
Supermassive Black Hole
Resistance
Panic Station
Animals
Montpellier Jam
Explorers
Sunburn
Time Is Running Out
Save Me
Madness
Follow Me
Undisclosed Desires
Plug In Baby
Stockholm Syndrome
The 2nd Law: Isolated System
Uprising
Knights Of Cydonia (Man With A Harmonica Intro)
Starlight
Survival